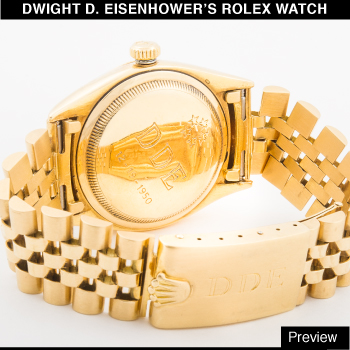 Raleigh DeGeer Amyx Collection
---
Live Auction September 17 and 18, 2014
RR Auction is proud to present the internationally renowned collection of Raleigh DeGeer Amyx in a live auction event to be held on September 17 and 18, 2014. More than an assortment of artifacts, this represents the life-long dream of one man, a personal quest to preserve and share American history—indeed, the Raleigh DeGeer Amyx Collection, with a special focus on the 19th and 20th century, embodies the nation's past at its finest. As a young man, his avid interest in history and politics led him to employment with the Federal Bureau of Investigation in 1957, at first serving as a messenger to FBI Director J. Edgar Hoover, while also attending night school at American University. It was in this FBI position that he began to come into contact with the news-makers themselves—Dwight D. Eisenhower, Lyndon B. Johnson, and a young senator named John F. Kennedy were among his personal encounters.
It was these important brushes with greatness while in Washington that inspired his realization that there were hundreds of firsthand witnesses to history milling about nation's capital, each with their own fragment of history. Raleigh DeGeer Amyx, possessing a major background in American history, made it his quest to become acquainted with these folks—Mr. Amyx met the valets, housekeepers, cooks, secretaries, butlers, Secret Service agents, groundskeepers, upholsterers, and other career up-stairs assistants who had served presidents, many of whom worked at the White House for decades. Through these close personal connections, Mr. Amyx assembled the story of America, piece by piece, a project that took decades of diligence and continual contact with key career assistants.
The depth and breadth of the Raleigh DeGeer Amyx Collection is truly astounding, with the personal effects of numerous presidents and people of influence, museum-quality autographic material from the individuals who shaped the world as we know it, and perhaps the finest official White House china in private hands. No story of world history would be complete without the mention of sports, and also featured in the collection are world-class Olympic items dating back to the Summer Olympics of 1900, the second modern Olympic Games to ever be held. Online and phone bidding will be available, and an in-person preview is scheduled for two days preceding the live auction, which will be held on September 17 and 18 at the Omni Parker House, 60 School Street, Boston, MA 02108.