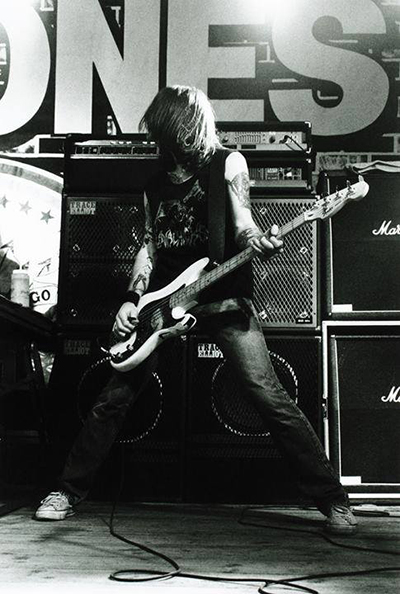 Click here to watch CJ Ramone talking about auditioning for The Ramones - gearing up for auction

Christopher Joseph Ward, better known as "CJ Ramone," is an American musician who was the bassist for the punk rock group The Ramones, from 1989 when he replaced Dee Dee Ramone, until the band's 1996 break-up. But he's still rocking, and shows no signs of stopping.

"I absolutely feel obliged to keep the legacy going," he says. "I 100 percent do."

Imagine being a fan of punk's seminal pioneers, and then finding yourself part of the band. "I was a huge fan since I was a kid," says Ramone, the eventual youngest member of The Ramones by nine years. "[Then] I played in the band for seven years." Johnny Ramone claimed he knew immediately when CJ auditioned to replace Dee Dee that he was the right fit, commenting that CJ "had the right look." When The Ramones were inducted into the Rock and Roll Hall of Fame, original drummer Tommy Ramone credited CJ with "keeping the band young."

CJ sang lead on "Strength To Endure" and wrote two tracks for the band's farewell album, "¡Adios Amigos!" He played at their epic final show, delivering those iconic "1-2-3-4!" shouts and rubbing shoulders onstage with Eddie Vedder, Tim Armstrong and Lemmy.

RR Auction is honored that CJ has chosen to share some of his personal mementos of his time in The Ramones. It wasn't easy for him to part with this huge part of his life, but he wants fans to have the opportunity to own a piece of music history, too. He started out as a fan, and knows where that can lead.