A Collector's Guide to Elvis
by Bill White
There is always someone ready to try and imitate an important person's autograph. This has been happening since the dawn of handwriting. Often someone is authorized to sign things for a celebrity, but all too frequently the people who do the signing are forgers bent on making money from their handiwork. As the autograph business has grow, so has the number of people turning out unauthorized autographs. Sadly, many of these new forgers are inexperienced at copying the subtleties of their chosen celebrity's penmanship. It might be of some use to forgers to take a closer look at one of their favorite targets: Elvis Presley. Maybe, with luck, taking a closer look at Elvis' handwriting will also be of use to the forgers' victims as well.
Elvis has always been a popular autograph, and as his cult has grown, naturally so has the price of his autograph. A few years ago a signature could be had for a couple hundred dollars; the same signatures today would sell for closer to a thousand. As prices rise and supply diminishes, forgeries rush in to fill the voice. Elvis is widely forged and month after month too many dealer and auction catalogs feature inauthentic Elvis material. Know what to look for before buying an Elvis autograph.
The Basics
In many cases with rare entertainment autographs, collectors stand little chance of obtaining genuine examples of uninscribed autographs. Authentic signed items by Marilyn Monroe, James Dean, Jean Harlow, and other notoriously scarce stars are almost always found made out to a co-worker or an otherwise lucky fan. This makes forgeries of these autographs harder to pull off: the uninscribed items are usually questioned. And if the forger has perfected the signature but boldly added extra writing, it is the other writing that usually gives him (or her) away. Fortunately for forgers, Elvis generally obliged collectors by just signing his name. Take a look at the following authentic Elvis signatures: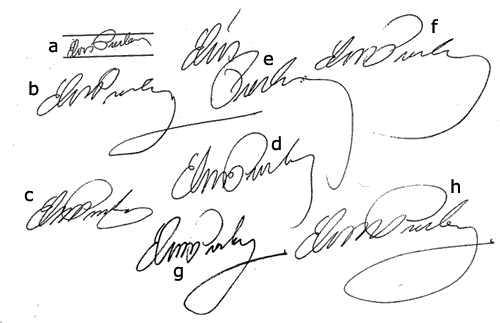 Look closely at the overall childishness of the handwriting. More importantly, study the words "To" and "you." Both words crop up frequently in inscribed Elvis material, as in the following two examples:

When Elvis inscribed a signature, he always made it "To" the recipient, and the way he wrote the word "To" did not change over the 20-year span of his career. His capital "T" looks a lot like a "7" and always connects to the letter that follows it. Also, notice that when Elvis did dot his "i" it was dotted with more of a slash than a dot. Here are five more authentic signatures: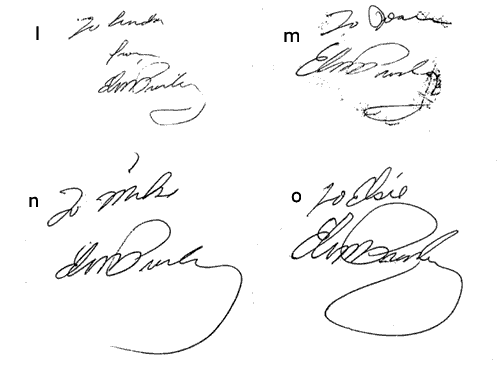 Although, somewhat erratic, there are some consistencies to Elvis' autograph. Collectors may find this interesting; forgers should take special note:
"Elvis" and "Presley" are written on the same line (except where space would not allow, as in example (e), which was written on the confines of a postcard).
The final "s" in Elvis connects to the "P" in Presley . Note too that the signature is broken into two parts: "ElvisP" and "resley".
Except in the first case, an early 1958 signature, Elvis looks almost like it says Elm or Eliss.
Elvis rarely dotted his "i".
The most obvious letters in the signature are also the tallest: The "El" in Elvis and the "P" and "l" in Presley. The "E" and the "l" in Elvis are virtually the same height. The "P" in Presley is by far the most prominent letter of all , and is taller than any other. The "l" in Presley is not as "looped" as the "l" in Elvis. It is sometimes not looped at all, and it tilts much more to the right.
The "s" in Presley is open at the bottom and looks very much like an "r".
Inscriptions
Only the cleverest forgers add inscriptions. The additional writing is too much to deal with and offers too many clues that lead to exposure. For brazen Elvis forgers interested in refining their craft, this section may prove useful.
Elvis' handwriting was never attractive. His signature could be quickly penned and smooth-flowing, but anything other than the words Elvis Presley, his handwriting is always jerky and childish-looking. Usually his signature is too. Take a look at this example from 1956, signed when Elvis was in the infancy of his career: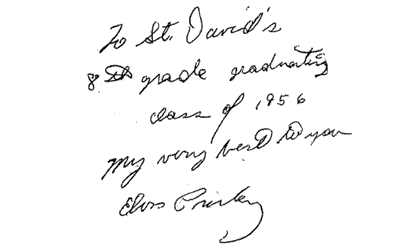 Notice that characteristics (1) and (3)-(6) given above all hold in this early example. Only (2) does not hold, but compare this signature to the 1958 signature (a). They are nearly identical.
The next half-dozen genuine signatures will give forgers a chance to pick up on two more sentiments: "Love ya" and "Thanks." Check that (1)-(6) all hold in each of these signatures and pay special attention to the familiar "T" in Thanks: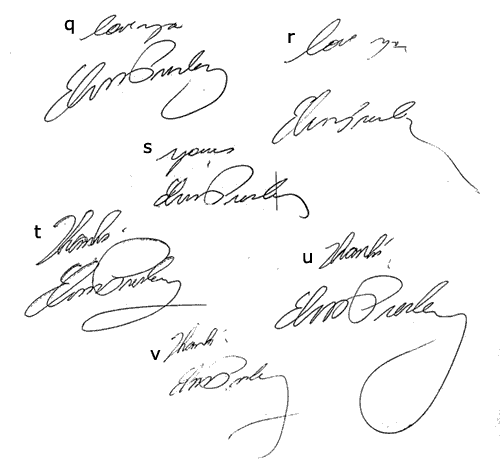 Documents
Forgers of modern entertainers generally steer clear of documents - signed photos and slips of paper require much less effort and stand up better to scrutiny. One can always explain away any fishiness by claiming that an autograph on a card or photo was obtained "in-person." All but the most dedicated Elvis forgers might wish to skip to the final section, or just head off to practice.
The following eight signatures, all obtained from documents, show Elvis' tamer side. Confined to signing on a line, and in a presumably more somber mood, his legal signatures show more consistency: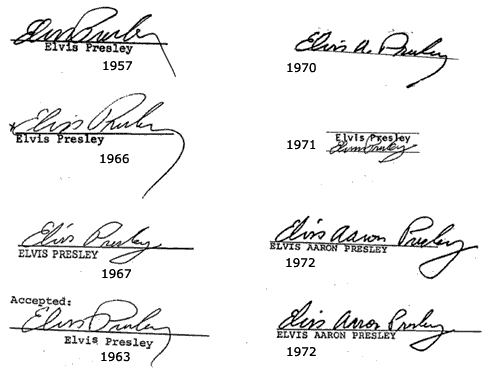 The "s" in Elvis does not connect to the "P" in Presley in several of these signatures, but there is an overall conformity of these contractual signatures. There are also two peculiarities. The Elvis from the 1971 document seems to have too many letters, probably due to Elvis' state of mind while signing the property settlement between himself and Priscilla that this signature was taken from. Similarly, the two 1972 signatures are also from property settlements, and here Elvis has misspelled his own middle name, Aron. He doubtlessly signed it to match the misspelling already in type on the document itself.
A Missing Link?
Look at these signatures:

The first signature was taken from the back of a 1975 fan club membership card, an unlikely item for Elvis to sign so late in his career. The other two signatures were obviously also signed by the same hand ... but were they signed by Elvis?
A taste of Elvis' penmanship is there, but there are too many differences to ignore. The "P" doesn't dominate the signature, and it doesn't connect to the "s" before it. It does connect to "resley," which Elvis himself never does. The "ley" at the end of the name looks almost identical in each of these examples - note the wild variations in the "ley" in all of the authentic examples. Notice also that in all of the authentic examples Elvis writes the second "e" in Presley, even if it only appears as a small bump. Finally, look at "Best Wishes." This is not Elvis' handwriting. It is too legible and too "mature." Compare the "Best" in these three examples to the best in example (i); look at the ways the "t" is crossed in each.
Unlike so many other mega-stars, Elvis did not seem to make extensive use of secretarial signatures, but these three signatures were certainly not signed by Elvis.
And Finally
All too many Elvis Presley signatures on the market and in collectors' hands are not signed by Elvis. They are signed by forgers - forgers who usually have a flair for the feel of Elvis' autograph and who often capture a few of the quirks. There are far too many Elvis forgeries to even begin to illustrate, and there is really no reason to illustrate them. They all lack one thing - they were not signed by Elvis. There is always something missing, be it misformed letters, an improper slant, the wrong relative size of things, the wrong overall feel. Perhaps this article will help the better forgers put out a better product; hopefully, it will also help collectors like you to outwit them.



Don't miss these other authentication articles:
Solving the Frank Sinatra Dilemma
Authenticating Your Marilyn
A Closer Look at Ronald Reagan