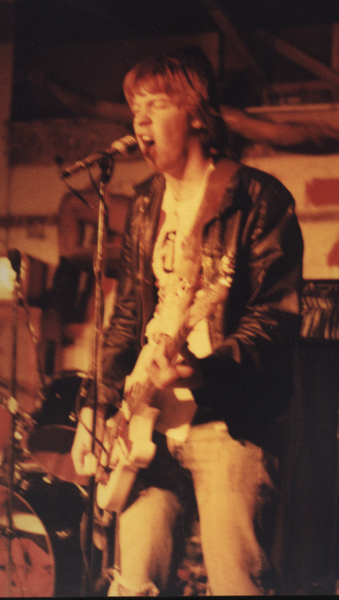 While stadium ballads and synth-heavy dance tracks dominated much of the 1980s, the pulse of punk rock thrived around the Boston area underground—and Chris Lamy was at its center. A participant in New England's counterculture music scene, the Granite State guitarist toured and caroused with the Jabbers and their volatile frontman GG Allin throughout the early eighties, playing countless shows and meeting a wealth of eclectic artists, the most notable of which being Ramones guitarist, John Cummings, better known as Johnny Ramone.
Chris and Johnny befriended in the winter of 1980, and bonded over music, movies, and baseball. They hung out at the Zig Zag Lounge and at Cummings's 22nd Street apartment in New York, and then, of course, at shows. By his own account, Lamy has seen the Ramones perform approximately 200 times. He was personally acquainted with several of the band's crew members and art director Arturo Vega; they fondly referred to Lamy as 'Lamby' or 'Lamb Eyes.' Chris and Johnny remained close throughout the Ramones' eventual breakup and Johnny's retirement in California—their friendship is mentioned in Monte Melnick's book 'On the Road With The Ramones.'
The expansive Chris Lamy collection and its peerless archive of punk rock history takes center stage in our July Marvels of Modern Music Auction. In addition to names like The Sex Pistols, Black Flag, The Clash, and the notorious punk act GG Allin and the Jabbers—a band for which Lamy played guitar in the 80s and its later incarnation, The Jabbers, from 1999 to present day—this compendium contains what is assuredly one of the most inclusive ensembles of Ramones ephemera to hit the auction block. Featuring Johnny Ramone's custom-designed, stage and video–used 1980 Hamer guitar, a plethora of signed vinyl, a stage-used Ramones concert set-list, and vivid, never-before-displayed posters, there is no shortage of colorful and uncommon pieces in this never-before-offered assemblage.