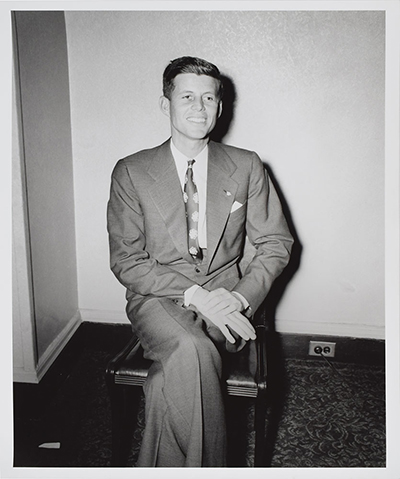 In honoring the upcoming 100th birthday of John F. Kennedy, we at RR Auction wanted to do something special to acknowledge this historic date. The following 100 lots of photographs each represent a year from this centennial celebration of JFK's life on May 29, 2017. Overall these photographs are the best quality and assortment of rare and mostly unseen images of JFK that we have ever offered.

LIFE magazine will feature six of these photographs in a twelve-page 'photo essay' chapter in their upcoming 'special edition' commemorating JFK's centennial birthday. The 100 lots of photographs depict a fascinating and crucial period in JFK's life from 1946–1953, chronicling JFK's first political congressional campaign of 1946, his run for U.S. senator in 1952, and his marriage to Jackie in 1953. The 1946 and 1952 campaigns depict a grass roots organization in which JFK's family played such a major role in his success. Examples of this are seen in photos from the famous 'Meet the Kennedys' events of 1946 and the extremely rare photos from the successful 'Kennedy Teas' of 1952.

JFK is seen in 'official' portrait photographs from both campaigns, marching in parades, participating in political rallies, visiting factories and local neighborhoods, meeting with 'youth,' 'ethnic,' and 'vet' groups,' giving speeches, seen with President Truman and Adlai Stevenson, and with baseball greats Ted Williams and Hank Greenberg. JFK is also seen sharing both of his political victories with his loyal and dedicated staff of volunteers who played such a major role in both campaigns. These campaigns are a far cry from the national roll out that the Kennedy juggernaut used in Kennedy's successful 1960 presidential campaign. There are also fantastic images from JFK's marriage to Jackie in 1953.



These 100 lots are organized in the following four categories:

Vintage Photographs
Printed from the original 4" x 5" negative in either 1946 or 1952. These photos are in fantastic condition considering they are all between 60–70 years old. They are ferrotype prints (shiny high gloss). What distinguishes them even more are the contemporaneous notes written on their backs in red grease pencil adding to their historical significance. Most photos measure 5"x 8 "

First Generation 20" x 24" Photograph Prints
20" x 24" Silver Gelatin black and white prints from the original 4"x 5" negative—'museum-quality'—the extraordinary sharpness and detail from these prints is due to the large negative (20x bigger than a comparable 35mm negative) and to the craftsmanship of a master printer who has over 250 examples of this type of work hanging in the Smithsonian Museum. Printed on the best quality Ilford photographic paper. *NOTE: For the first time we are printing each horizontal image from this group in a spectacular two-page layout showcasing as much detail as possible from these negatives. Even with that said, due to formatting for our catalogue, approximately 10% from these images has been cropped for the catalog only and the entire image can be seen on our website.

First Generation 8" x 10" Photograph Prints
8" x 10" Silver Gelatin black and white prints from the original 4" x 5" negative. 'Museum-quality'—same printer, same craftsmanship—printed on the best quality Ilford photographic paper.

Color 20" x 24" Photograph Prints
35mm Color Transparency—5 vintage slides of JFK as President with Family 20" x 24" Chromogenic color prints on Kodak Glossy photograph paper.