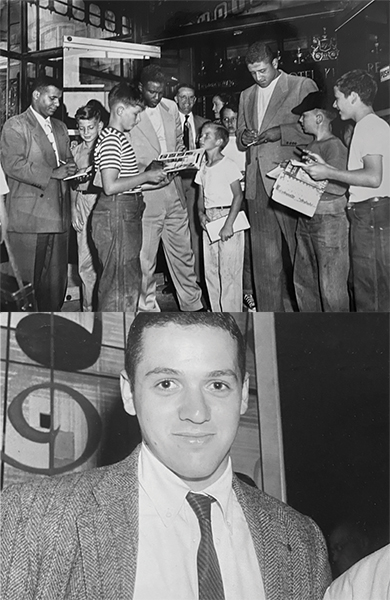 Collecting autographs was a natural hobby for a kid who grew up a mile away from Fenway Park. Steve Adamson would pay 60 cents for a bleacher seat and make his way to home plate to watch batting practice with the immortal Ted Williams, who, after several weeks into the summer of 1949, finally noticed him. Ted once approached young Stevie and started making small talk. It was all he could do not to faint. Steve and his grammar school pals would wait outside the Hotel Kenmore for hours to get the autographs of the players who were in town for games at Braves Field or Fenway Park. "In relatively short order I was able to get all 25 players from 16 teams." Once he reached that milestone, he turned to the "old time players," spending afternoons at the Boston Public Library doing detective work through old phone directories. "I'd write directly to them and they'd feel touched that they were still remembered. I got Honus Wagner and Ty Cobb…"

In his high school years, Steve became enamored with music. "I would go to jazz clubs as a teen and treat these musicians with such reverence, and they'd get such a kick out of this kid asking for their autographs." I was able to get Duke Ellington, Count Basie, Bud Freeman. I adored Billie Holiday. I was smitten by her and she knew it."

As a teenager, Steve briefly took saxophone lessons from the renowned Serge Chaloff until he concluded that his musical talents were better suited to listening than playing. "No false modesty here, I was terrible." Although he never learned to read music, Steve understood music on a deeper level.

Next came classical music. He revered Schubert, Hayden, Mendelssohn, Bruckner, and Mozart, and spent years understanding their musical genius. He regularly attended the Boston Symphony Orchestra, always waiting in line to speak to the musicians and get their autographs.

After graduating from the Wharton & Annenberg School at University of Pennsylvania, and spending four years in the Navy, Steve began his career as an education book salesman all over New England, which allowed him time to search for treasures in antique shops, record stores, and used book stores—forever growing his collection. Steve's devotion to collecting autographs never diminished.

He collected records, CDs, books, stamps, fountain pens, coins, sports memorabilia, vintage razors, and autographs of celebrities and politicians. But mostly Steve collected friendships with people who shared his many predilections. His autograph collection grew until his final days. Never owning a computer, he obtained his early autographs by writing to each individual, but the vast majority came from dealers and auction houses. "I was wise enough to write to (Sir) George Martin, having known Martin's background in classical music. I told him of my adoration for the composer Frederick Delius. Then I asked for the autograph of the Beatles. The next thing I know I get a wonderful signed autograph of all four Beatles. It's a treasure."

Proudly displayed in his home near where he slept were a piece of Lincoln's catafalque, a hair of Franz Schubert, and an Audubon print. A lifetime of curiosity, reverence, knowledge seeking, and love of all things critical to our history is on sale in this collection.

Top lots in this sale include 'Dr. Haydn's VI Original Canzonettas' sheet music signed by Franz Joseph Haydn, a wartime appointment for a Union paymaster signed by Abraham Lincoln, a signed first edition of Martin Luther King, Jr.'s Where Do We Go From Here, a signed music score for 'Die Sterne von Leitner' by Franz Schubert, and a typed letter signed by Mohandas Gandhi. These offerings reveal the impressive scope of the collection of Steve Adamson.