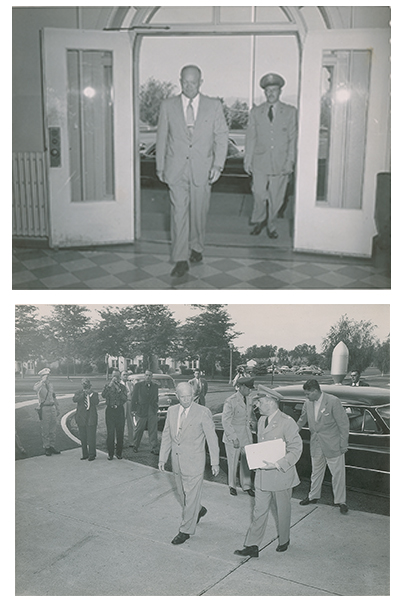 Born in 1908, Robert L. Schulz attended the Academy of Advanced Traffic in New York and entered the field of traffic management in the mid-1930s. At the beginning of World War II in 1942, he was commissioned a captain in the Office of the Chief of Transportation, assigned to the Traffic Control Division. He began arranging transportation for General Dwight D. Eisenhower as early as 1945, and was appointed as Ike's aide-de-camp in 1947. His duties included arranging transportation and handling personal business matters for Eisenhower and his family, acting as a gatekeeper and discreet channel of communication for the general's family and close friends.

As a five-star general, Eisenhower was entitled to keep his aide, and Schulz remained with him when he became president of Columbia University in 1948 and when he took command of NATO forces in Europe in 1950. Schulz then served as military aide to President Eisenhower for the duration of his term in the White House, from 1953 to 1961. During this time, in addition to accompanying the president nearly everywhere he went, Schulz represented Eisenhower at ceremonies, arranged foreign trips, and spoke to reporters during his illnesses. When President Eisenhower left office, Schulz became his executive assistant, and in 1969 he was appointed by President Nixon as Special Assistant to the President for Liaison with Former Presidents. For a period of more than twenty years, Brigadier General Robert L. Schulz served by the side of Dwight D. Eisenhower, allowing incredible access to one of the towering figures of the American 20th century.

View all items from the collection of Brig. Gen. Robert L. Schulz.