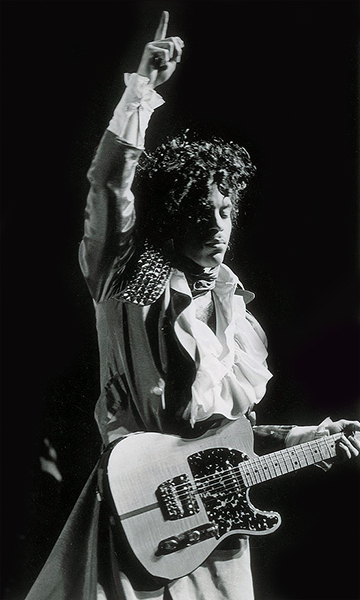 Let's Go Crazy! Our Prince auction last night was truly exciting! Sales expectations were absolutely shattered, as legions of Prince fans engaged in a passionate bidding exchange through the night. When the purple dust settled, sales were triple what was projected — great news for our consignors!

One of those consignors was Prince's former fiancee, Susannah Melvoin. Her intimate collection of items from her life with Prince featured their home decor — a Prince personally owned lamp and shade sold for $5,300 — and Prince's "Under the Cherry Moon" personal notebook with extensive handwritten comments by Prince, which evoked an exciting bidding competition, finally going for nearly $45k.

Especially fierce bidding surrounded Prince's personally owned, stage-worn boots — you've seen him rocking these yellow boots many times; we have a great video— with a whopping final price of $75k.

Prince's all-access pass from when he toured with Rick James in 1980 also garnered tons of back and forth bidding, finally going to the lucky bidder for $60k. And an extremely rare Prince 1986 "Camille" album advance pressing was much sought after, reaping a final price of nearly $59k. Prince's "Purple Rain" handwritten music enhancements notes were fought for and won with about $51k.

This Prince auction again proves his staying power and the ceaseless magnetism of this music legend. We can't wait to share more personal Prince items in the future. Do you have Prince memorabilia you'd like to consign?Contact us!

Check out the entire Prince auction results here.