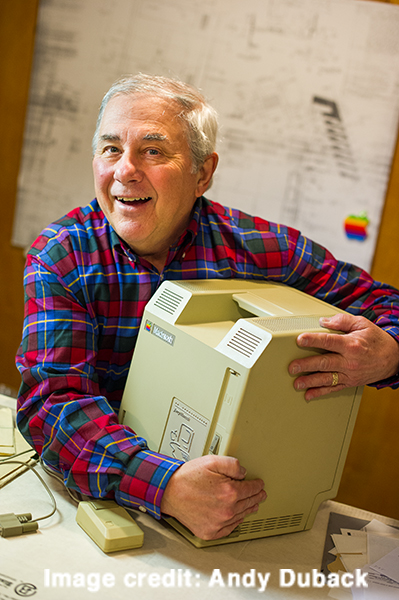 Eight years after graduating from Stanford University with an M.S. in Mechanical Engineering, Product Design, Jerrold C. Manock founded Manock Comprehensive Design in Palo Alto, California, for product design engineering consulting. Soon thereafter, Steve Jobs contracted him to design a case for the Apple-1 PCB computer. For a fee of $1,800, Manock designed and prototyped the enclosure, and the final product was introduced as the Apple II at the West Coast Computer Faire in 1977.

Building upon this early success, Manock then joined Apple as a 'part-time' employee, designing the Disk II before going full-time as Apple's Corporate Manager of Product Design, Employee #246. In this capacity, he led the product design teams for the Apple III and the iconic first Macintosh computer—Apple's first to use a detached keyboard and mouse. Today, Manock is regarded as the 'father' of the Apple Industrial Design Language.

Manock left Apple in late 1984, relocating his consulting firm to Burlington, Vermont, where he continues to design, invent, and teach. His design philosophy has remained steadfast since his Stanford days: a product has to truly satisfy a customer's needs, work exceptionally well, be economical to manufacture, and appeal aesthetically. In order to accomplish this, the designer works from the inside out, then from the outside in, iterating until extensive customer field testing yields acceptable results. He carried this motivating philosophy throughout his Apple Computer career, and its impact continues to resonate in their products to this day.