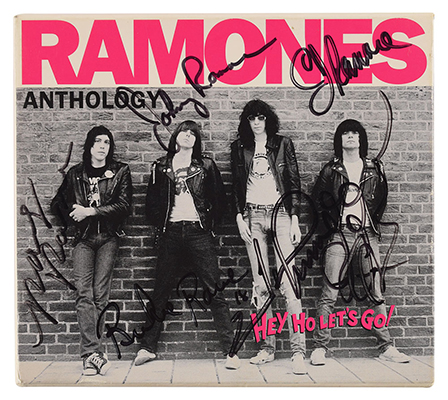 Gene Frawley here, or as I am known in the Ramones community, "Gene the Cop." Growing up in the Bronx, New York, and retiring as a police officer from the New York City Police Department, I have always been a fan of the NYC music scene, especially the Ramones.

I saw the Ramones play numerous times throughout NYC in the early 80s, and enjoyed the opportunity to meet them, work for them, and become personal friends with each of them. I continue working with CJ Ramone still today, and the Ramones remain a big part of my life.

I started working with the Ramones in 1989, when Dee Dee had left the band and CJ arrived. Johnny, having already known me for a few years, thought it would be great to bring me on board to help assist tour manager Monte Melnick while on the road.

During this time, I traveled with the band inside 'The Van,' and saw the road through the eyes of the Ramones. Over the years, I had the opportunity to put together a nice collection of Ramones memorabilia. I am sharing some of my collection with the RR Auction community to enjoy them as I have.

View all items from the collection of Gene Frawley.